Google is going to start marking HTTP pages as non-secure.
Google will mark HTTP pages as non-secure. Your visitors will be well aware that your site is not secure, starting with Google Chrome 56.
In order to help users browse the web safely, the Google Chrome web browser indicates connection security with an icon in the address bar. Google has historically not explicitly labelled HTTP connections as non-secure in their Chrome web browser. But that is about to change.
Google has announced that beginning in January 2017 in their Chrome web browser, that they will mark HTTP pages that collect passwords or credit cards as non-secure. This is a part of a long-term plan to mark all HTTP sites as non-secure. (Reference: https://security.googleblog.com/2016/09/moving-towards-more-secure-web.html.)

On future releases, Google plans on showing an even stronger warning that the site is using http instead of https: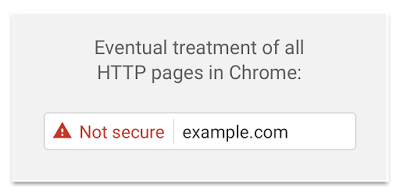 The change in a nutshell:
Beginning in January, Google is going to label sites that collect confidential information as non-secure. That is, unless they're protected with an SSL Certificate.
What is an SSL Certificate, anyway?
An SSL certificate legitimizes your website. It does this by keeping form submissions secure. As a result, it is letting potential and existing customers know that your site is safe. This furthers the trust in you, since your site is safe to use and do business with.
How can KEVINDUSTRIES help you?
We will get you onto a VPS (virtual private server) and get an SSL Certificate installed for your site. Or, if you are already on a VPS, we can set up the SSL Certificate for you. Either way, we will help you so that you can give your customers the best security protection while simultaneously improving your search engine results. Please fill out our short
Service Request
form and select "SSL Certificate setup" and if you need a VPS then also check "VPS Setup."